2014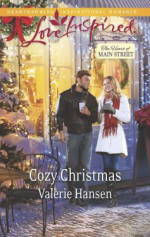 COZY CHRISTMAS

Dec 2013

Love Inspired Romance
"Heart of Main Street" series, book #6
ISBN 978-0-373-87853-6
"For the first time in years, Christmas brings hope to Bygones, Kansas. But for Josh Barton, Main Street's coffee shop owner, it brings back sad memories he'd rather forget. He's a new man, with a new life and faith now. Still, he hides a huge part of himself from his neighbors and from one very inquisitive reporter. Whitney Leigh seems determined to uncover the mystery of the town's recent windfall, and Josh could help her. But that would mean opening up his guarded heart. Can a man who thought family and Christmas were only for others find a forever home where he least expects? The Heart of Main Street: They're rebuilding the town one step—and heart—at a time."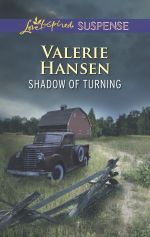 SHADOW OF TURNING (Reissue)

April 2014
Serenity, Arkansas setting
Love Inspired Suspense


The little town in the Ozarks was always a safe haven for Chancy Boyd, until a disturbing series of crimes began to threaten everything she held dear. Worse, a deadly tornado is now racing toward the town. With the help of professional storm chaser Nate Collins, she will have to face her deepest fears, both the storm gathering outside and the storm of conflict this man has unleashed in her heart.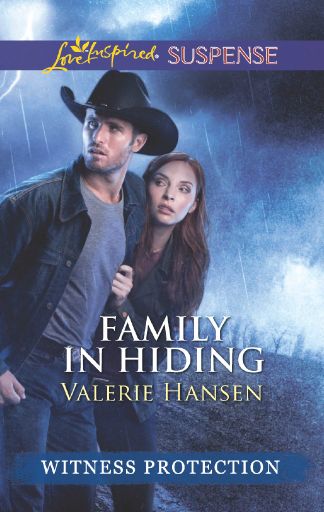 FAMILY IN HIDING

May 2014

Love Inspired Suspense,
"Witness Protection" series, book #5
ISBN 978-0-373-44594-3
"When her estranged husband Dylan's inadvertent dealings with a crime ring bring danger to her doorstep, Grace McIntyre has no choice but to follow him into the witness protection program. To safeguard her children, they must all go into hiding as one big happy family. Grace doesn't know what's worse—having to pretend she's in love with the man who betrayed her trust or keeping ahead of the killers. In hiding, Dylan is all that stands between their safety and certain death. Now more than ever, he wants to be the man that Grace once loved. Keeping his family alive is his only hope—to be a hero and a husband."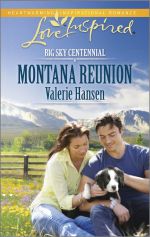 MONTANA REUNION

Digital-only prequel to...

"BIG SKY COUNTRY"

Full series to follow,
in print and as ebooks
Available May or June 2014
The tiny town of Jasper Gulch, Montana, is celebrating their hundredth anniversary, and you're invited! Get lost in Big Sky Centennial, a land of ranches and romances and memorable characters you can't help but root for. In this short prequel from Valerie Hansen, a small-town beautician with a big heart reunites with the high school beau she could never forget….

Word travels fast in a small town, and it spreads like wildfire that Tony Valdez is back in Jasper Gulch. The former bad boy is now a respected veterinarian, but he's still got that sparkle in his eye. And that's what has Annette Lakey worried. She vows to avoid the man who once stole her heart—until a stray dog and her impending puppies bring Annette and Tony face-to-face. Seeing him again makes her feel all warm and fuzzy…and afraid she might fall all over again!

And don't miss the first book of the Big Sky Centennial miniseries, Her Montana Cowboy by Valerie Hansen.

Big Sky Centennial: A small town rich in history…and love.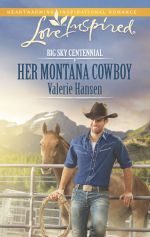 HER MONTANA COWBOY

July 2014

Love Inspired Romance,
"Big Sky Country" series,
Book #1
"Julie Shaw loves her big family and her small home town, Jasper Gulch, Montana. A six-month-long series of festivities are planned to celebrate the town's centennial, beginning with a Fourth of July parade, picnic and fireworks to kick off three weekends of professional rodeo competition. What surprises Julie is the personal "fireworks" she notices when one particular rodeo cowboy catches her eye. She and Ryan Travers are nothing alike, and yet... Since her father has been trying to get all his adult children married off, Julie wonders if Ryan would be willing to pretend to be her date just to relieve the pressure of her dad's match-making efforts. Whether or not that's a good idea remains to be seen."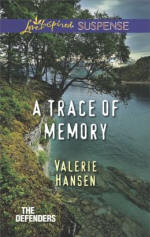 A TRACE OF MEMORY

Aug 2014

Love Inspired Suspense,
My Casa series,
"The Defenders",
Book #4
"Emma Lynn Landers left her hometown of Serenity, Arkansas, with a group of musicians hoping for fame. When she returns years later, it's by instinct more than conscious thought. She can barely remember her own name, yet something makes her seek out the one man she somehow knows she can trust, rancher Travis Wright. Suffering from amnesia brought on by being held prisoner by her best friend's evil husband, Emma does her best to remember. As flashes of memory return, she realizes it's not only the adults in her life she needs to protect. There is also Sissy, a little girl in terrible jeopardy. Where is she? How can Emma make herself remember what she needs to know in time to save the child?"










-UNTITLED-

Early 2015

Love Inspired Suspense,
My Casa series,
"The Defenders",
Book #5











Top || Home|| News || Bio || Coming || Books || Excerpts || Links || E-Mail