2016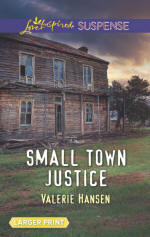 SMALL TOWN JUSTICE

Jan 2016

Love Inspired Suspense,
My Casa series,
"The Defenders",
Book #5 (the final one)
"Back home in Serenity, Jamie Lynn Henderson's determined to prove her brother was framed for the town sheriff's hit-and-run death years ago. But as she encounters dead end after dead end, Jamie Lynn discovers someone will go to any length - even murder - to bury the evidence. Her only hope of staying alive long enough to uncover the truth is Shane Colton, the late lawman's wary son. Shane's world was shattered by one senseless act that he can't forgive, yet somehow he is drawn to protect the lovely woman trying to free her brother from prison. If they don't work fast, Jamie Lynn's single-minded quest might lead them both into the real killer's trap."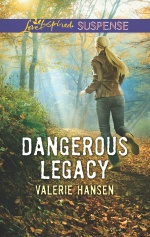 DANGEROUS LEGACY

July 2016

Love Inspired Suspense

"Maggie Morgan was once madly in love with Flint Crawford and assumed they would be married as soon as she graduated. Instead, partly due to a feud between their families, Flint left town to join the military. Maggie was left to pick up the pieces of her life, including giving birth to the child Flint never knew about. By the time he returns to Serenity as a game warden, his son is five years old. Maggie has returned to her Christian faith and is supporting herself by running a rehabilitation program for wild animals. She knows it's inevitable that father and son will eventually meet but wants to delay as long as possible. When it begins to look as if someone is trying to kill both Maggie and Flint, they must work together to figure out who and why and stop the attacks. Is the old feud still alive? Is someone on the Crawford side after Maggie? Could it be a person related to her who is aiming to eliminate Flint or a poacher who resents his job of enforcing the law? Either way, their son could be caught in the cross-fire. They are both willing to risk everything to protect the boy."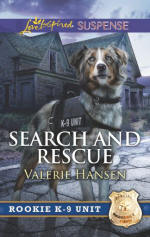 SEARCH AND RESCUE

September 2016

Love Inspired Suspense,
"Rookie K-9" series
Book #6

"The small Arizona town of Desert Valley has been the scene of murders dating back five years, beginning with the shooting death of the wife of current Police Chief, Ryder Hayes. Ryder is raising his daughter, Lily, and continues to search for the killer, who was finally identified but then escaped. The town boasts a highly successful K-9 training facility headed by Sophie Williams. When someone begins to repeatedly target Sophie, Ryder is worried that the same serial killer may be involved. If so, they know who to search for. If not, who in Sophie's turbulent law enforcement past might still hold a grudge?" (note to readers - I can't tell you more or I might spoil the earlier books in this series. Sorry!)

(no excerpt at this time because it would give away too much plot)

And, at Christmas time, 2016, watch for a follow-up novella set in Desert Valley featuring authors Valerie Hansen and Lenora Worth.











Top || Home|| News || Bio || Coming || Books || Excerpts || Links || E-Mail