BOOK LIST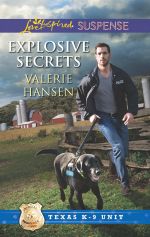 EXPLOSIVE SECRETS

Apr 2013

Love Inspired Suspense
ISBN 978-0-373-44532-5
"Implicated by her criminal cousin, Nicki Johnson is now the target of a murderous gang. Dark-haired policeman Jackson Worth thinks she is hiding something, but his remarkable bomb-sniffing dog has no such reservations. He's there to protect her - no judgments, no questions. And Jackson is a man of honor. He'll stand by this beauty and her unborn child. Because it is the right thing to do. And because guarding her has left his battle-scarred heart open to the possibility of love. Which changes everything..."










DANGEROUS DEVOTION
"Fearless and Faithful; Women Who Dare"

Jan 2013 (eBook Edition)

Contemporary Romantic Suspense
"Jessica was just 18 when she married the love of her life: handsome, strong, independent, Greg Dixon, who promised to always be there for her. What he didn't tell Jessica was that he was an undercover agent, sworn to bring down a dangerous drug cartel.
In too deep, Greg had no choice but to fake his own death – the only way he could protect her – leaving Jessica alone to raise their son. Seven long years have passed since Jessica was told she was a widow…and now Greg is back, more magnetic than before, but with shocking news: someone high up in the CIA is dirty – and Jessica and their son are in terrible danger!
From the majestic Ozarks to exotic jungles, from hometown to the unknown, Jessica and Greg are running against the clock. Their love and faith put to the test, just how far must they go? And is Jess's devotion to Greg more dangerous than the relentless enemy at their heels?"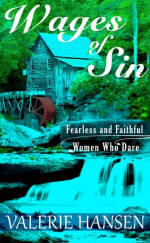 WAGES OF SIN
"Fearless and Faithful; Women Who Dare"

Dec 2012 (eBook Edition)

Historical Romantic Suspense
"Ruby McKay has no time to grieve her sister Louise's passing if she hopes to save the poor girl's newborn son. With Louise's cruel husband on her trail and a cadre of detectives pressed into service to track her down, Ruby begins an odyssey that will take her and the innocent babe from Kansas all the way to southern New Mexico - and drop them right in the middle of the Lincoln County War. Along the way, Ruby is assisted by several kind souls, among them, Brax Rutledge. He begins by pursuing her as he would a criminal, yet ends up realizing she is innocent of any wrongdoing in spite of the terrible false charges arrayed against her."

Author's note: This story is true to life and the era in which it takes place, including some gritty language that fits the story perfectly. These were harsh times. Not every man was a gentleman and not every woman was a lady.
Kindle Edition available now on Amazon.com
Nook Book available now on BarnesAndNoble.com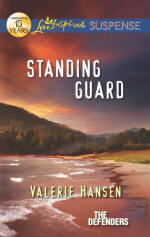 STANDING GUARD

Sep 2012

Love Inspired Suspense
ISBN 978-1-459-23879-4

"A scared widow and her defenseless son have former marine Thad Pearson on red alert. Someone is systematically wrecking Lindy Southerland's life; her credit rating, her bank account and even her home. Unless the attacker gets what he wants her child will be targeted next. With Thad's every protective instinct in overdrive, he guards Lindy and her son as if they're his own family. But keeping his scarred heart safe proves his toughest assignment yet - and leads him straight into a mastermind's deadly trap."










THREAT OF DARKNESS

Jun 2012

Love Inspired Suspense
ISBN 978-0-373-44492-2

"As a nurse and special advocate for children, Samantha Rochard is used to finding danger even in small town Serenity, Arkansas. But when she suspects that a little boy is in jeopardy from his powerful father, the danger turns to focus on her. Her only source of protection? The handsome police officer who broke her heart five years ago. Yet after John Waltham comes to her rescue in more ways than one, Samantha must trust in him - and in the Lord - to watch over her...and help her save one sweet little boy."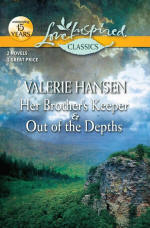 HER BROTHER'S KEEPER and
OUT OF THE DEPTHS

May 2012

Love Inspired Classics
ISBN 978-0-373-65154-2

"This is a reprint of two of my favorites, together in one big book. You can look up excerpts for each of them here by using the individual titles. They were written to stand alone but are even better in sequence. I'm delighted to see them again!"
Read an Excerpt of Her Brother's Keeper!
Read an Excerpt of Out Of The Depths!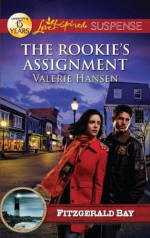 THE ROOKIE'S ASSIGNMENT
"The Defenders" series

Feb 2012

Love Inspired Suspense
ISBN 978-0-373-65154-2

"Law enforcement in Fitzgerald Bay is full of Fitzgeralds, from the chief of police to brand-new officer Keira Fitzgerald. Are they tampering with a murder investigation to protect one of their own? Internal Affairs detective Nick Delfino is sent undercover to investigate the powerful clan. Yet the deeper he digs, the more Nick comes to admire the Fitzgeralds, especially his rookie partner, Keira. When a killer targets Nick, can he maintain his cover, catch his attacker and protect Keira while the looming danger closes in?"










NIGHTWATCH
"The Defenders" series

Oct 2011

Love Inspired Suspense
ISBN 0-373-44460-5

"When widow Jill Kirkpatrick volunteers to foster three children who were recently orphaned in a suspicious fire, she has no idea that the person who set that fatal blaze is still at large, still bent on revenge. Firefighter Mitch Andrews, who was a close family friend of the victims, intervenes on behalf of the surviving children and finds a staunch ally in Jill. Can they find justice together or will they have to pay the ultimate price for defending the innocent children?"
2012 WINNER!
"New England Reader's Choice Bean Pot Award"
for NIGHTWATCH
Inspirational category





2012 Finalist
"Gayle Wilson Award of Excellence"
from Southern Magic RWA
for NIGHTWATCH
Inspirational Suspense category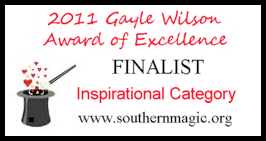 2012 Finalist
"Carol Award"
from American Christian Fiction Writers
for NIGHTWATCH
Inspirational Suspense Category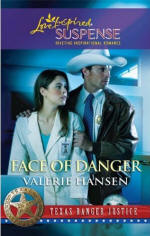 FACE OF DANGER

Mar 2011

Love Inspired Suspense
ISBN 978-0-373-44433-5

"Forensic artist Paige Bryant is working for the Texas Rangers when Cade Jarvis brings her a new assignment that places them both in jeopardy. Paige refuses to give up in spite of serious personal threats, so it falls to the handsome ranger to keep her safe until she can complete the facial reconstruction that may solve multiple crimes. Cade feels certain he can win against the forces of evil, but will he be able to keep his heart from being broken at the same time?"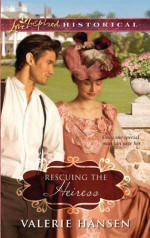 RESCUING THE HEIRESS

Feb 2011

Love Inspired Historical
ISBN 978-0-373-82855-5

"It's spring of 1906. San Francisco fireman Michael Mahoney's hidden love for socialite and erstwhile suffragette Tess Clark drives him to become her protector - even as the earth quakes and the City by the Bay goes up in flames. In the midst of the disaster, Michael must show Tess that love, and their shared Christian faith, can overcome any obstacles."
2012 Finalist
"Golden Quill Award"
from Phoenix Desert Rose RWA
for RESCUING THE HEIRESS
Inspirational category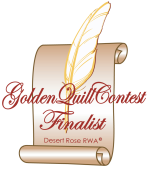 2012 Finalist
"Maggie Award"
from Georgia Romance Writers
for RESCUING THE HEIRESS,
Inspirational Category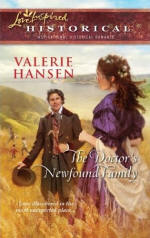 THE DOCTOR'S NEWFOUND FAMILY

June 2010

Love Inspired Historical
ISBN 978-0-373-82837-1

"He found his calling ministering to the downtrodden in San Francisco. But in Sara Beth Reese, Dr. Taylor Hayward finds something more. The beautiful young woman's spirit and kindness warm Taylor's heart, but it's her fearless determination that drives him to action. Sara Beth has vowed to clear the name of her murdered father, and she'll face any obstacle to achieve her goal. Orphaned, alone in the world - except for the three younger brothers in her care - she needs the doctor's protection, whether she'll admit it or not. As danger escalates, Taylor will risk everything for the right to make this newfound family his to love and protect for a lifetime."
2011 Finalist, Second Place
"New England Reader's Choice, "Bean Pot Award"
for THE DOCTOR'S NEWFOUND FAMILY
Historical category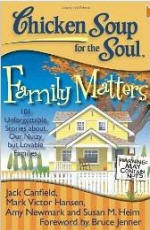 CHICKEN SOUP FOR THE SOUL:
FAMILY MATTERS

ISBN 978-1-935096-55-9

"Valerie Hansen is among the contributors to this book and vows that her story of her family is, unfortunately, all too true."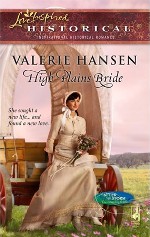 HIGH PLAINS BRIDE

Jan 2010

Love Inspired Historical
ISBN 978-0-373-82827-2

"When a tornado wrecks Emmeline Carter's family, there's nowhere to turn but the fledgling Kansas settlement, High Plains. Will Logan, one of the town's handsome founders, gives the surviving Carters a new home - and offers Emmeline a new love. But does she dare accept it?"


2011 WINNER!
"Write Touch Reader's Award"
from Wisconsin RWA
for HIGH PLAINS BRIDE
Inspirational/Traditional category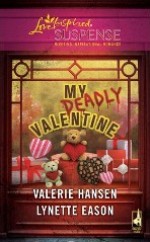 MY DEADLY VALENTINE
- Dangerous Admirer

Feb 2010

Love Inspired Suspense
- novella with Lynette Eason

ISBN 978-0-373-44382-6

"Someone is stalking Rachel Hollister. With suspects at every turn, it's deputy Jace Morgan's job to halt the menace shadowing her steps. As the most romantic holiday of the year approaches, can she trust this charming officer with her life - and her heart?"
2011 HOLT MEDALLION
"Award of Merit"
from Virginia Romance Writers
for DANGEROUS ADMIRER
in "My Deadly Valentine"
Novella category

2011 Finalist
"Golden Quill"
from Phoenix Desert Rose RWA
for DANGEROUS ADMIRER
in "My Deadly Valentine"
Novella category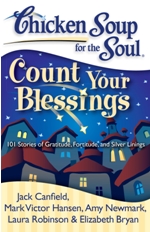 Chicken Soup for the Soul:
COUNT YOUR BLESSINGS

Dec 2009

"This is a book of individual, personal stories, one of which is mine. Since giving an excerpt might spoil the effect, I'm going to just say that it's a subject that has taken me many years to be ready to tackle."
















HEALING THE BOSS'S HEART

July 2009

Love Inspired Romance
"After the Storm" series, Book #1
ISBN 978-0-373-87536-8

"Single mother, Maya Logan, is working for Greg Garrison when a Kansas tornado hits High Plains and does an enormous amount of damage. Both the Logan and Garrison ancestors were founders of the town. An ongoing rivalry exists between the family patriarchs but Maya is determined to encourage forgiveness. Will she also be able to forgive herself enough to allow her love for her boss to grow? And what about the future of her friends and family members who were devastated by the tornado? Only time will tell."
2010 DOUBLE FINALIST for the "Bean Pot Award"
from New England RWA for
HEALING THE BOSS'S HEART,
Traditional Romance category, and
NO ALIBI,
Romantic Suspense category.

2010 Finalist for the "Award of Excellence"
from Colorado Romance Writers for
HEALING THE BOSS'S HEART
Inspirational category.










FIREWORKS!

June 2009

Free online read as a prelude to the upcoming series about life in the small town of High Plains, Kansas. "After the Storm" is the overall name of this series, beginning in July 2009 with my HEALING THE BOSS'S HEART. A historical series about the founding years of High Plains will follow in Jan. 2010, starting with HIGH PLAINS BRIDE. I had the pleasure and honor of writing book #1 in that series, too.










NO ALIBI

June 2009
Love Inspired Suspense
ISBN 978-0-373-44341-3

"Julie Ann Jones knows that juries decide life or death, she simply didn't expect the life on the line to be her own. Courtroom tension is running high during a scandal-packed murder case. As the trial heats up, a series of "accidents" begins targeting the jurors - especially Julie Ann. There are gunshots at her beauty salon. A prowler is spotted at her house. Through it all, fellow juror Smith Burnett gives her the courage to continue. But will she find the courage to give Smith her heart?"










NOWHERE TO RUN

Oct 2008
Love Inspired Suspense
ISBN 978-0-373-44312-3
Run and don't stop! Those were her former boyfriend's last words to her before the thugs he associated with murdered him in cold blood. Now they're after Marie Parnell. She flees with her five-year-old daughter - until car trouble strands her in Serenity, Arkansas. The handsome mechanic who promises to get her back on the road is suspicious - and purposely slow. With nowhere to turn and nowhere to run, Marie tells Seth Whitfield everything. About her past, about finding faith, about how safe she feels with him. He vows to protect her and her child. But Seth isn't exactly who he says he is...
2009 HOLT MEDALLION
"Top Five" Award of Merit
from Virginia Romance Writers
for NOWHERE TO RUN

2009 Finalist for the "Write Touch Readers Award"
from Wisconsin RWA for
NOWHERE TO RUN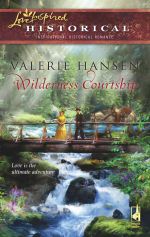 WILDERNESS COURTSHIP

Aug 2008
Love Inspired Historical
ISBN 978-0-373-82793-0
Widow Charity Beal has survived the trip across the Great Plains, a short marriage to an evil man and is now settled in a hotel in San Francisco with her father, Emory. She expects to spend the rest of her life caring for Emory as penance for her earlier folly but God has other plans. Thorne Blackwell and his family arrive by ship, fleeing a very real threat of death, and everything changes. When kind-hearted Charity is pressed into service as a companion to Thorne's sister-in-law and nursemaid for his toddler nephew, she finds herself on a journey north to the Columbia River to meet her destiny. All she has to do is survive long enough to embrace and enjoy it.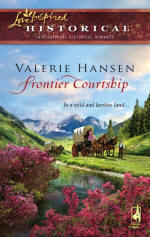 FRONTIER COURTSHIP

Mar 2008
Love Inspired Historical
ISBN 978-0-373-82784-8

She had made a solemn promise to see her younger sister to safety in California. But the endless journey across the frontier was proving a heartbreaking test of courage and endurance for Faith Beal. All she had to sustain her was her steadfast belief in God - and the guiding hand of a stranger who truly seemed heaven-sent.
Connell McClain was her selfless guardian as their wagon train slowly made its way west. And as they shared the dangers of the trail and the closeness of the wagon camp, Faith felt the first tender stirrings of love for this roughhewn yet caring man. But would the secrets that seemed to haunt him threaten their feelings for one another?
**** 4 STARS from Romantic Times ****
"Frontier Courtship (4) by Valerie Hansen, captures the reader from the start. Romance, secrets, Indians and danger are the top ingredients in this amazing story."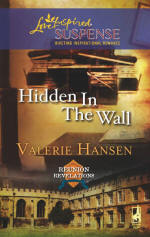 HIDDEN IN THE WALL

Jan. 2008
Reunion Revelations series, Book #1
Love Inspired Suspense
ISBN 978-0-373-44274-4

Stephanie Kessler has always felt at home on the campus of Magnolia College - until a construction project unearths a skeleton and she begins to delve into the events of the past. Who was the female victim? How long has she been buried there? And does handsome Trevor Whittaker, a former troublemaker turned construction foreman, have anything to do with the heinous crime?
*****4 1/2 stars from Romantic Times!*****
"Hidden in the Wall (4.5) has consistently excellent characters.
Kudos to Valerie Hansen for writing an exceptional story with a puzzle that's nearly impossible to solve."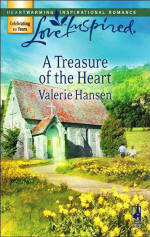 A TREASURE OF THE HEART

Sept. 2007
Gumption and Serenity, Arkansas setting
Love Inspired Romance
ISBN 0-373-87449-9

When Lillie Delaney's life in the big city didn't work out, she headed home to Gumption, Arkansas, longing for the peaceful predictability of the tiny Ozark town. Not to mention the proximity of the grandmother who'd raised her. Yet Lillie was in for a shock; her grandfather had taken off with a younger woman and her grandmother - running around in a pink shower cap - wasn't handling it very well. So Lillie turned to the town pastor James Warner, only to find a very handsome motorcycle-riding rebel in a black leather jacket! But she was beginning to learn that the Lord did indeed work in very mysterious ways...
****another 4 star review from Romantic Times****
"...a quick and evenly paced book that gets even better as tension builds. Kudos to Valerie Hansen for a delightful story that reminds readers that when love hits, it rarely misses its target."
2008 Double Finalist "Maggie Award"
from Georgia Romance Writers for
A TREASURE OF THE HEART
2008 Finalist "Award of Excellence"
from Colorado Romance Writers for
A TREASURE OF THE HEART
2008 Double Finalist "Write Touch Readers Award"
from Wisconsin RWA for
A TREASURE OF THE HEART
2008 "Award of Merit", Southern Theme,
Virginia Romance Writers for
A TREASURE OF THE HEART!
2008 Finalist "Booksellers Best Award",
Greater Detroit RWA for
A TREASURE OF THE HEART!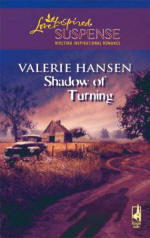 SHADOW OF TURNING

June 2007
Serenity, Arkansas setting
Love Inspired Suspense
ISBN 0-373-44247-8

The little town in the Ozarks was always a safe haven for Chancy Boyd, until a disturbing series of crimes began to threaten everything she held dear. Worse, a deadly tornado is now racing toward the town. With the help of professional storm chaser Nate Collins, she will have to face her deepest fears, both the storm gathering outside and the storm of conflict this man has unleashed in her heart.
**** Another 4 star review from Romantic Times ****
"Shadow of Turning, Valerie Hansen's interesting and intriguing story, has an ending that will no doubt surprise the reader."
2008 Double Finalist "Maggie Award"
from Georgia Romance Writers for
SHADOW OF TURNING
2008 Double Finalist "Write Touch Readers Award"
from Wisconsin RWA for
SHADOW OF TURNING

Read an Excerpt!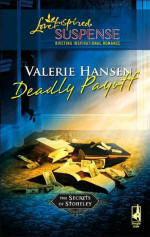 DEADLY PAYOFF

May 2007
Secrets of Stoneley series
Love Inspired Suspense
ISBN 0-373-44242-3

Six sisters face murder, mayhem and mystery while unraveling secrets of their past in Stoneley, Maine. Some of them have remained in the area but Delia Blanchard has found her niche in Hawaii. When she returns to Maine for a visit she is thrown into close contact with Shaun Murphy, the husband she believes abandoned her after her father had their teenage marriage annulled. If meeting Shaun again was Delia's only problem she'd manage just fine. The trouble is, someone keeps trying to eliminate her sisters, one by one, and she may be next!
**** 4 stars from Romantic Times ****
"Hansen does a fine job starting to tie things together as this series nears its close."

Read an Excerpt!










OUT OF THE DEPTHS
Dec 2006
Love Inspired Suspense
ISBN 0-373-87407-3
Becky Tate's brother, Cody Keringhoven, (from HER BROTHER'S KEEPER, Nov.2005) has been seriously injured in a whitewater rafting accident and has come to Serenity, Arkansas, to recuperate, never dreaming his harrowing trials are just beginning. When he looks beyond his own troubles to try to help his sister's friend, Trudy Lynn Brown, save her canoe rental business and campground on the Spring River, he becomes a victim of the same danger that continues to threaten her.
****Another 4-star review from Romantic Times ****
"...a heartwarming romance with enough suspense to keep
the pages turning."
2007 FINALIST FOR THE GAYLE WILSON AWARD OF EXCELLENCE
from Southern Magic RWA for OUT OF THE DEPTHS!
2007 FINALIST FOR THE HOLT MEDALLION
from Virginia RWA for OUT OF THE DEPTHS!
2007 WINNER OF THE LAUREL WREATH
for Best Romantic Suspense from Volusia
County RWA for OUT OF THE DEPTHS!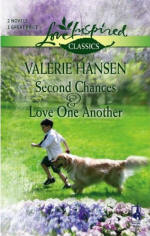 SECOND CHANCES and
LOVE ONE ANOTHER
Jan 2007
Love Inspired Romance/Steeple Hill
ISBN 0-373-65275-5
These two titles were previously published separately. If you missed them then, this is the perfect chance to get them both in one book! Look for this "Love Inspired Classic" in stores in late December or early January.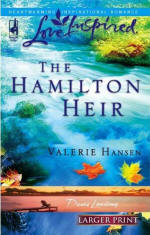 THE HAMILTON HEIR
Oct 2006
Love Inspired Romance/Steeple Hill
ISBN 0-373-87398-0
Book #4 in the Davis Landing series. When Dawn Laroux, a down-to-earth woman from Louisiana becomes Tim Hamilton's executive assistant, they're bound to clash. She's practical and he's used to living lavishly. She's committed to church and volunteer work and he thinks anything that doesn't make a profit is a waste of time. Will their growing affection for each other be enough to overcome such ingrained differences?
**** An amazing 4 1/2 stars from Romantic Times!***
"The fourth book in the Davis Landing series is an excellent read.
Valerie Hansen's THE HAMILTON HEIR (4.5) is a great book!"
2007 FINALIST
for LOVE INSPIRED "BOOK OF THE YEAR"
from Romantic Times
for THE HAMILTON HEIR!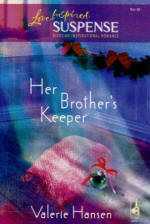 HER BROTHER'S KEEPER
Nov 2005
Love Inspired Suspense/Steeple Hill
ISBN 0-373-442262
Becky Tate thinks she knows who she is and where she came from but she's wrong! Aunt Effie, the woman who raised her, is hiding a sinister secret. When new pastor Logan Malloy arrives, his presence brings further, unseen threat and the danger that the frightening events of the past will eventually be discovered. Can Becky accept the truth when it does come out or will it destroy her, her faith, and the lives of everyone she loves?
****Another 4-star review from Romantic Times ****
"...a fascinating look at long-buried secrets."


Winner of the 2006 Golden Quill from Desert Rose RWA
Finalist for the 2006 Daphne du Maurier Award of Excellence in Mystery Suspense, Kiss of Death chapter, RWA

Also available from Crossings Book Club and Thorndike Press, large print, both in hardcover.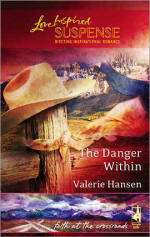 THE DANGER WITHIN
Feb 2006
Love Inspired Suspense
"Faith at the Crossroads" series, book #2
ISBN 0-373-87347-6
Layla Dixon, who grew up in a counter-culture in Colorado Springs, is just passing through the area when providence places her in close proximity to Michael Vance, a rancher with a problem that veterinarian Layla is perfectly suited to solve. If the mysterious loss of a few cattle was all that was wrong at the Double V Ranch, Layla would have the answer in no time. However, sinister forces at work against Michael's family and subesquently against Layla, are enough to threaten both their possible romance and their very lives.
****Another 4-star review from Romantic Times ****
"...heart-pounding action
and heartwarming romance."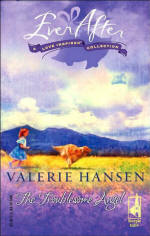 TROUBLESOME ANGEL - (Reissue)
Nov 2005
Love Inspired/Ever After
ISBN 0-373-80972-7
A favorite is back! If you missed THE TROUBLESOME ANGEL the first time, you'll be happy to know it's included in the Love Inspired Ever After collection, coming to bookstores in Nov. 2005










EVERLASTING LOVE
September 2004
Love Inspired/Steeple Hill
ISBN 0-373-87280-1
Megan White believes God has shown her the perfect way to combine her love of animals with a desire to help others. She's trained some docile pets to serve as emotional therapy aides and is preparing to introduce them to the homeless children temporarily lodged at Camp Refuge. Camp director, James Harris, suspects her efforts will do more harm than good, especially when he learns she's included her troubled teenage sister in the project. Megan's animals are easy to understand. It's the complicated human relationships in the camp that provide the real challenge, both to her patience and to her faith.










SAMANTHA'S GIFT
August 2003
Love Inspired, Steeple Hill
ISBN 0-373-87224-0
This is the touching story of five-year-old Samantha, an orphaned waif who is certain her guardian angel rescued her from the wreck that killed her parents. Though no adults will believe her, she's positive angels are still close by. Her teacher, Rachel Woodward, is instantly drawn to the lonely little girl. So is the new school counselor, Sean Bates. They do such a good job of making Samantha feel wanted again, she decides they would make perfect parents. With the help of her angel friends, she expects to bring together these two unlikely people so they can fall in love, marry and adopt her. Circumstances interfere until it begins to seem as if her angels have deserted her. Or were they ever there in the first place?
Finalist for the 2004 Holt Medallion!
Finalist for 2004 Georgia RWA Maggie Award of Excellence!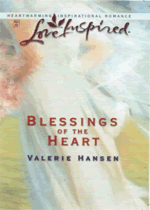 BLESSINGS OF THE HEART
April 2003
Love Inspired/Steeple Hill Books
ISBN 0-373-87213-5
Mitch Fowler, a single father, seeks refuge for himself, his two rambunctious sons and their muddy little dog after a terrible flood destroys his Ozark cabin. The only dwelling close by is the elegant home of reclusive perfectionist, Brianne Bailey. She has chosen a life of quiet solitude in which to write about romance, yet she has never experienced the kind of unconditional love her characters enjoy. Having to accommodate Mitch and the boys - and the scruffy dog - is more than a trial for her. It's an enlightening encounter filled with laughter, chaos and eventual bliss.
To paraphrase a nuptial constraint, "Whom God hath thrown together by storm, disaster and misadventure, let no one split apart." At least not until both parties get the divine message that they were destined for each other!
Finalist for the 2004 Golden Quill Award!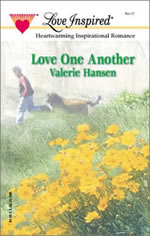 LOVE ONE ANOTHER
November 2001
Love Inspired/Steeple Hill Books
Tina Braddock thought she was doing the right thing when she accepted temporary responsibility for her brother's wrongdoing. By the time she finds out how serious his crime was, it's too late to save herself and she's sent to prison in his place. When she's finally released, she's ostracized by former friends and neighbors so she runs away and starts a new life in a small Arkansas town where no one knows her.
There, she meets and falls in love with widower Zac Frazier and his four-year-old son, Justin. The trouble is, Zac wants a career as a youth pastor, a man whose life should set a good example for others. Praying for a miracle that will allow her to continue to hide her shameful past, even from Zac, and find the happiness she seeks, Tina is shocked when a former acquaintance threatens blackmail. Will the truth set her free? Or is it too late for forgiveness?
Another **** 4 star review from Romantic Times!
"LOVE ONE ANOTHER by Valerie Hansen is a serious story with some great moments!"
Finalist for 2002 Desert Rose RWA GOLDEN QUILL AWARD!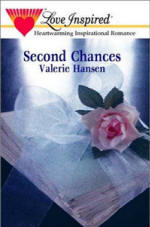 SECOND CHANCES
June 2001
Love Inspired/Steeple Hill Books
Preacher's daughter, Belinda Carnes, had once been head-over-heels in love with Paul Randall in spite of his reputation as a rebel. All that changed when Paul and her father argued violently. That night, the church caught fire and Paul was blamed. Angry, he left town.
Ten years later, when Paul returns to the same small town to advise his elderly twin aunts on financial matters, he discovers that the man Belinda is now seeing is also the one who is trying to cheat his aunts!
Belinda is caught in the middle. The ideals of love, loyalty, faith and morality that she grew up with seem suddenly contradictory. If Paul is guilty of the arson fire that broke her father's spirit, how can she possibly still love him. Or forgive him?
Then again, if Paul is really innocent, as he's claimed, will he be able to forgive Belinda for not loving him enough to trust him?
**** 4 stars from Romantic Times!
"SECOND CHANCES by Valerie Hansen will put a smile on your face... A great little spontaneous romance!"
Finalist for 2002 Desert Rose RWA GOLDEN QUILL AWARD!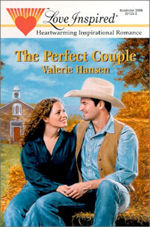 THE PERFECT COUPLE
November 2000
Love Inspired/Steeple Hill Books
First in a series based on the beatitudes, this is the story of widowed Kara Shepherd and her struggle to overcome the emotional trauma left behind by her abusive husband. Widower Tyler Corbett, on the other hand, is certain he once had a perfect wife who could never be replaced. Although their reasons are very different, neither Kara nor Tyler is willing to consider remarriage to anyone. When family members on both sides drive them crazy trying to get them interested in each other, they feel safe pretending a romantic involvement because they're both positive they're immune to love. What they haven't anticipated is how big a part empathy will play in their actual relationship. Or, how hard it will be to keep from breaking their mutual promise to never again fall in love.
****4 stars from Romantic Times!
"Valerie Hansen's THE PERFECT COUPLE has some memorable scenes as both hero and heroine struggle with their blossoming feelings and buried pain."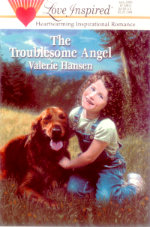 THE TROUBLESOME ANGEL
June 2000
Love Inspired/Steeple Hill Books
ISBN# 0-373-87109-0
Stacy Lucas and her search-and-rescue dogs are summoned to the Ozark Mountains to look for Missy, a six-year-old runaway. When she arrives, Stacy is shocked to find that Graydon Payne, the man who once lectured her about being unfit to marry into his family, is soon to become the girl's uncle by adoption. Stacy and Graydon find themselves working together for the good of the orphaned child, even though they come from totally different backgrounds and seem to view the world from opposing perspectives. There are only two things that might eventually bring them together in spite of their differences; love and concern for lonely, frightened Missy, and a mutual Christian faith. In the hands of the Lord, that's more than enough.
**** 4 stars by Romantic Times!
"THE TROUBLESOME ANGEL by Valerie Hansen is a tender, well-written story of forgiveness, God's great sense of humor, and how falling in love is never easy."
Finalist for Colorado Romance Writers 2001 AWARD OF EXCELLENCE!
Finalist for 2001 Desert Rose RWA GOLDEN QUILL AWARD!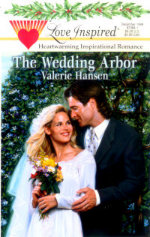 THE WEDDING ARBOR
December 1999
Love Inspired/Steeple Hill Books
ISBN# 0-373-87084-1
Stranded on a muddy, washed-out, Arkansas road in the middle of a blinding storm, Sara Stone is rescued by reclusive ex-cop Adam Callahan and his enormous dog. When Adam learns that Sara is fleeing from a possible stalker, he vows to protect her. Being a fairly new Christian, Sara is confused because she mistakenly thought the worst of her problems would be over when she came to the Lord. As a former believer, Adam knows better. He's certain God has abandoned him - if there really is a God. In order to ultimately save Sara, Adam must let go of his misdirected anger and rely completely upon the Lord's help. Beneath a rustic brush arbor, they find not only the love they both seek, but a renewal and strengthening of their faith.
Romantic Times Review: 4 stars!
"Great sparring dialogue, well-defined characters and just a hint of suspense make THE WEDDING ARBOR a delightful work of fiction."
Finalist, Colorado Romance Writers 2000 Award of Excellence, Inspirational category!
Finalist, 1999 National Readers' Choice Awards,
Inspirational category!











Top || Home|| News || Bio || Coming || Books || Excerpts || Links || E-Mail